Meet Rhyle: Teacher profile of the month
29 Nov, 2018
|
by Rachel Radford
|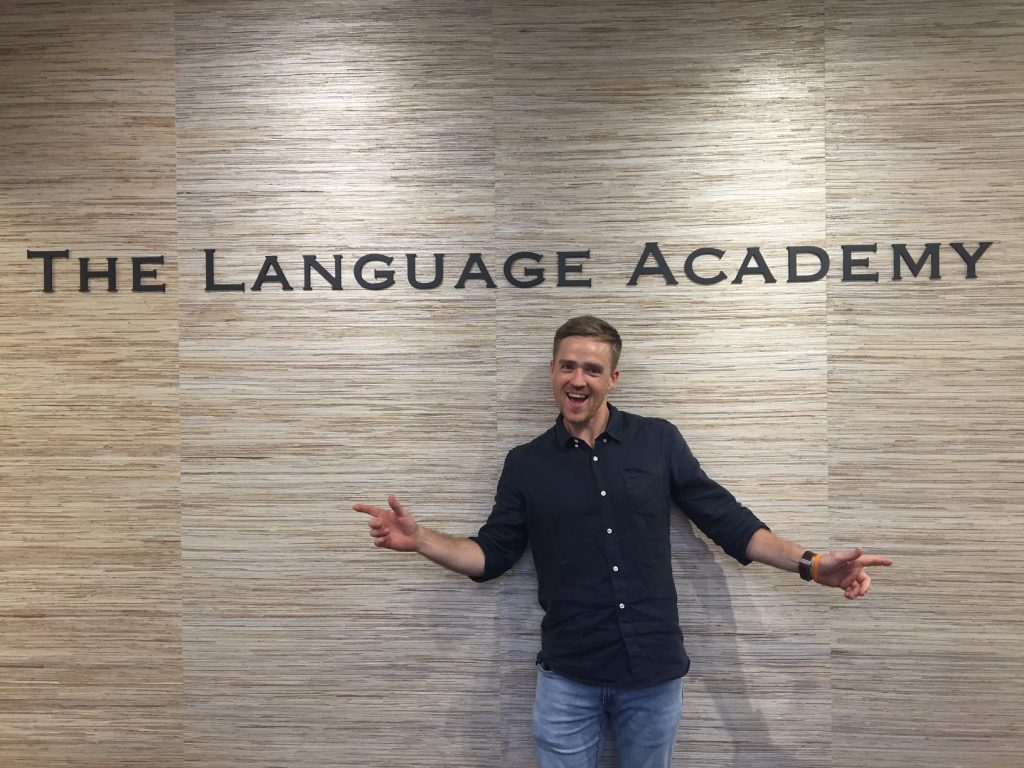 We go behind the scenes with Rhyle, our down-to-earth member of The Language Academy teaching team.
Read his interview below to find out how his connection with Cambodia has led him to a life of adventure, purpose and teaching. 
Name: Rhyle
From: Perth, Australia
Currently teaching: English
➱ LIFE AS A LANGUAGE TEACHER
🅠 Where did you grow up?
Ⓐ "Born in Perth, but I grew up all around the world. I lived in the Solomon Islands, and in the United States, in Texas and Hawaii for three and a half years. But I've spent most of my life on the Gold Coast.
About eight years ago, I moved to Cambodia and lived there for three and a half years, and then lived in Vietnam for eight months. Being over there, that is how I got into teaching. So, I started teaching young kids, six or seven years old, then did some kindergarten teaching. Then teens. And then I got offered a job."
🅠 What prompted you to move to Cambodia?
Ⓐ "I had this inherent desire to explore the world. I was in a position where I wasn't entirely happy, and I recognised that. So, I thought 'what can I do?'. I managed to choose the most outrageous thing at the time, because everything was so mundane. I wanted to do something that had an impact on someone or something.
So, I sold my car, and all my belongings. It was terrifying [laughing]. It is very glorified, but there are some very non-glorious times there. I remember the first night alone in Bangkok, and I was thinking 'oh my god, what have I done'."
🅠 Who or what inspired you to start teaching?
Ⓐ "When I got involved with these kids in Cambodia, I asked myself 'how can I help?' So, I offered up my English skills. And then after the third day, I just realised it was so much fun. And it occurred to me that I was enjoying it. Looking around at the kids, I knew it was not a job where I would wake up and go, 'oh, I have to go to work'."
🅠 Have you studied anything other than linguistics?
Ⓐ "I have a Bachelor of Business, and I've done a Graduate Certificate in Migration Law, which has led me into studying a Bachelor of Laws with Honours. I got into law not because I want to practice law, but to teach law. And especially if its young adults going into the real world. Then the plan is, at the end of next year if my grades stay up, I have to do a PHD if I want to teach in academia."
🅠 What do you like most about teaching? 
Ⓐ "The development I see in my students. So, it might not just be the development in their English language skills, but also their confidence in everyday life."
🅠 What do you find is the most challenging thing about teaching?
Ⓐ "[Laughing] The most challenging… hmm. I really want to make sure that students are not only having a good time but are also being engaged. Coming up with creative content to apply to grammar or whatever they're learning is challenging. English is hard on its own, so there's nothing worse for students to leave class thinking it was boring. I think that's a problem all teachers face, all around the world."
🅠 What is your teaching philosophy?
Ⓐ "Every time I step in that room, I teach with energy and passion. Students feed off your passion – off your energy. If they're struggling to work something out, we find another way, and get excited about doing it."
🅠 Describe a successful lesson. Tell us why it would be successful.
Ⓐ "I go into the lesson with a goal in mind. Whether it is to teach certain vocabulary or grammar rules. A successful lesson would be for them to turn around and use it effectively. And if they're using it and its fun the whole time, that's awesome. I go in there with one, two, sometimes three goals, and at the end of those four hours, the goal might only have been small, but both my students and I are satisfied that we have reached that goal."
🅠 What is the next language that you want to learn, and why?
Ⓐ "I have a burning desire to learn Spanish. Actually, there are so many languages I want to learn. I've always had interest in learning Spanish. Even before I went to Spain. I love European football and the Spanish teams, and I love the sound of the Spanish language. The other thing with Spanish is that it's spoken in so many different countries, it's very useful."
➱ UP CLOSE AND PERSONAL
🅠 Where have you travelled?
Ⓐ "I've done everywhere in Asia, and everywhere in Europe. The number one country for my bucket list is Mongolia. I did a three-month motorbike trip through Vietnam, Cambodia and Laos. And I'm planning another trip through the Gobi Desert and Mongolian Plains. I'm really interested in the traditional nomads and their way of life. I've not been anywhere in Africa or South America."
🅠 Do you have any hidden talents?
Ⓐ "[Laughing] I actually don't think I do, that's really sad. I must have something… surely [laughing]. Hmm… no I don't, that's so depressing! [laughing].
🅠 What is your favourite food?
Ⓐ "Ooh, I love Vietnamese food – pho. A lot of people say it's really bland, but if you get it off a little old lady off the side-street stalls – so good. It takes 48 hours to make it."
🅠 How would you describe yourself in three words?
Ⓐ "Strange (not in a negative way); just have always done things differently. Energetic. And an insomniac; I sleep three or four hours a night. I can sleep up to seven hours, but I don't know if I've ever slept eight hours. I go to bed at about 10.30pm and don't get to sleep until 11.30pm or midnight. Then I wake up at 4 or 4.30am every morning. So I guess I could call myself a strange, energetic, insomniac. [Laughing] Hence why the first word is strange."
🅠 If you could be any animal in the world, what animal would you be and why?
Ⓐ "Okay, it's funny you ask this, I was talking about this the other day – my favourite animal is a snow leopard. They only live in high altitudes. And they're quite strange animals, found in Kazakhstan. They are very unique."
🅠 Describe your perfect day. What would it look like?
Ⓐ "This one's easy. Wake up and walk outside my hotel in some foreign place, and start exploring the streets. I would stop on the side street and try some local food and run the risk of getting sick [laughing], it would be worth it. After that, I would find a place to sit down and watch all the people walking by. One of my favourite pastimes is people watching."
➱ LAST BUT NOT LEAST…
🅠 What is one thing you want your students to remember about you?
Ⓐ "How much I care about not only their learning, but their enjoyment. Overall, how happy they are. I put a lot of effort into my teaching and classes. Obviously learning something is the main objective, but I would like to put enjoyment on the same footing."
If you want to learn English, view our Intensive General English course, or get in contact for more information.
Get in quick – spaces are limited as we ensure small class sizes for the best learning outcomes!